Love You and He Will Too: The Smart Woman's Roadmap for Happy, Healthy Relationships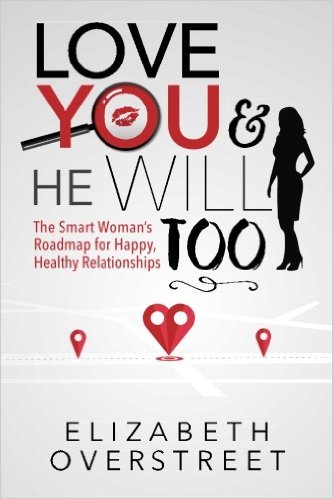 No one ever said finding love is easy. However, finding the love of your life is the most important journey you will take. It's also important to recognize that what you attract is a direct reflection of who you are and how you value yourself. Like you, I have had my fair share of relationships. I have dated as a single women, divorced woman and single parent. This book is not just about finding love but learning the importance of selflove. Without self-love guiding you on your journey, your roadmap to love will be limited and blurred. No matter what your current or past relationship status, you must navigate toward a relationship that leaves you fulfilled, satisfied, and happy on your terms. This book will give you the tools and techniques to design your roadmap for a happy, healthy relationship.
---
What People are Saying about Elizabeth Overstreet's work.
"I would recommend this quick read to any individual or couple wanting to bring harmony into their present union or dating lifestyle. It's an easy hour's worth of reading but a great jumping off point for days of reflection and introspection."—Relationship Coach and Amazon Reviewer
"I would highly recommend this book to anyone who is willing to learn about themselves and how they approach relationships! The author creates an easy-to-read, yet psychologically challenging experience for readers to begin exploring their own issues related to relationships and dating. Her wisdom coupled with her vast knowledge about humans and our many complexities related to interpersonal relationships made this a great read."-—Alisha Bradley, Life Coach
"This book was an interesting look into experienced advice about dating and the rules for enduring relationships and finding the right person…a well thought out guide with nicely explained thoughts on dating… Inspirational and filled with advice and tips for those like me who are trying to find a special someone. I would highly recommend it."—Clara M.
"Excellent advice to help all types of relationships! I ended up learning so much about myself with this book and I now know what I need to do to keep my relationship strong."—Kelly Knight
"Like the author, I have had my fair share of relationships over the years. I…would have loved to have had a guide and confidante as wise and insightful as author Elizabeth Overstreet. A must read for anyone seeking love or looking to hold onto it. Wish I'd read this one years ago." —Amazon Reviewer
"This book is perfect for finding a potential dating partner, I just wish I had come across it sooner! The advice is so helpful. I have already stopped being so picky and am trying to open my eyes up to the potential dating partners around me. I'm actually going to reread this one to get more advice to use in the dating world!"— Top Amazon Reviewer