Hi There
I am hearing so much frustration around dating. And I empathize because dating can be complicated, confusing, and frustrating at the same time.
Here's a bold truth that needs to be shared:
The old way of dating is done.
(And this is very good news for you.)
Does any of this sound familiar?
Wasting time on dating apps that leave you discouraged about your options
Getting your hopes up about a guy, only for him to ghost you
Wanting to ditch anxiety in dating so you no longer second guess your needs
Wondering if you really have to hide your success to not intimidate men
Feeling like you have to play hard to get to keep a guy's interest
There's a better way,
and it has to do with uncovering your unique blueprint for attraction.
If you fear you'll have to settle for a guy with no spark, or if you think meeting the right man can only happen by endless swiping online, you'll be relieved to know you really can have everything you want in love without lowering your standards, feeling guarded, or insecurity pushing him away.
…And discovering the hidden reasons it hasn't happened yet is the first step (even if you've already done a ton of personal development work).
That's exactly why I've joined forces with Madeline Charles and other top global love experts for The Irresistible Woman FREE Virtual Learning Series + Daily Gift Giveaway [Learn more here]
We're sharing our TOP tools and practices for you to easily attract your perfect match and create a secure, thriving partnership without wasting any more time on apps, dates that go nowhere, or anxiety making you second guess your every move.
What sets you apart as an irresistible woman now are things not found in generic dating books or podcasts.
I know because women everywhere are creating incredible relationships with these new insights, and you can, too.
Imagine meeting the man you're meant to be with this year. Someone who loves, cherishes, and adores all of you.
Learning how to effectively date now requires courage.
It means letting go of insecurity so your feminine magnetism can shine.
Overthinking is replaced with effortless self-expression that brings the right man closer.
And your vision for love easily becomes a reality – even if you've lost hope that it can happen for you in the way you desire it.
This new way of attracting lasting love is available to you right now.
That's why I'm so excited to offer you something FREE to jumpstart your love life in a fun and effective way (with things you likely haven't tried before).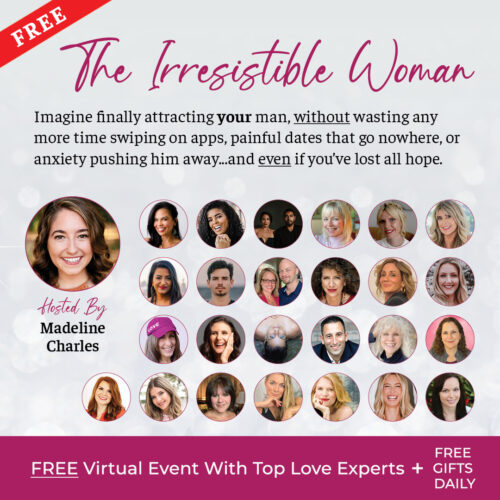 I, along with 25 global love experts, are joining forces for The Irresistible Woman FREE Virtual Learning Series + Daily Gift Giveaway. [Go Here]

Stop wondering what other women have that makes love look so easy, and find out for yourself.
Shave YEARS of trial and error by gaining our collective wisdom, including things you likely haven't heard before.
*BONUS!* >> Each expert training session comes with a free gift, so that's over 25 free gifts! Think of it like a virtual goodie bag that you can take and run with. Each gift is designed to support you in shifting your love life right away so you can have an immediate breakthrough that lasts.
These 30-minute audio sessions fit perfectly into your on-the-go lifestyle, whether you're walking, driving, or cooking. Each one is co-led (with Madeline Charles) by world-renowned speakers, coaches, authors, and teachers (including me).
This is for you if you are a single woman who:
Desires a conscious partnership with a high-quality man without wasting hours swiping on apps
Wants to uncover the hidden reasons you may be unknowingly repelling great guys
Is ready for more confidence in dating, so magnetizing the right man feels easy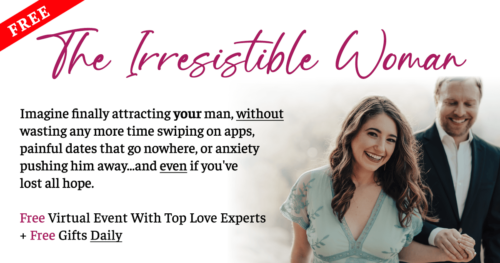 During The Irresistible Woman FREE Virtual Learning Series + Daily Gift Giveaway [Sign up here], you'll learn fresh new approaches to calling in the right man without confusing dating rules that feel inauthentic. And you'll be joining thousands of other women around the world on the same path to love.
What if a few 30-minute audio training sessions, perfect for playing while you're driving, going for a walk, or cooking, was the difference between spending another year searching for love or finally having that special person in your life?
You have nothing to lose (this entire online event is completely free!), and the love of your life to gain.
I want to see you at the event! I promise you, it will be worth it.
Until next time,
Xoxo
Elizabeth Overstreet (Your Love Strategist)
PS: I know you've seen a ton of similar events and may be wondering if this is really going to make a difference for you. I get it!
We've cut through all the dating advice you DON'T need to share unique insights that have the power to attract lasting love without games and tactics, even if you think there are no good guys left.
Join me and thousands of other women here >>> The Irresistible Woman FREE Virtual Learning Series + Daily Gift Giveaway [Click here to attend.]